7 Unique New Jersey Museums off the Beaten Path
Posted by: Sarah Graves - June 26, 2016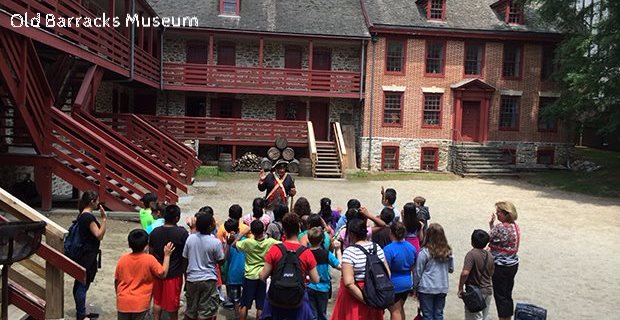 Whether you're a history buff, a video game connoisseur, or you just want to spend a day inside in an air conditioned building while learning something – there is definitely a museum for you. We have picked seven unique museums that offer different experiences than your typical museum. Bring learning to life on a historic tall ship, see a reenactment of the Revolutionary War, or climb in the cockpit of a real aircraft. New Jersey has so many great museums to explore with your kids.
The Schooner A.J. Meerwald is New Jersey's official Tall Ship. She is a restored oyster dredging schooner. You can take a ride on one of the many public sailing trips throughout the summer. On July 16 and Aug 20 they are hosting Summer Saturdays By the Bay. They will have free hands-on children's activities, educational programs, entertainment and an exploration of the outdoor environment.
See and play over 200 retro games at the Silverball Pinball Museum in Asbury Park. You pay by the hour one flat price to play as many games as you want within the time frame. The museum is a fascinating walk through the evolution of the pinball machine — from very simple machines to complicated models. They also have an onsite café with a variety of classic boardwalk food from pizza, pretzels, funnel cakes, and ice cream.
Old Barracks Museum is a state and national landmark for interpreting colonial life, providing engaging interactive experiences in "living history", illustrating the turning point of the American Revolution. Their programs, exhibits, and collections inspire curiosity and illuminate similarities and differences between 18th-century lives and ours.
Founded in 1972, the Aviation Hall of Fame & Museum of New Jersey offers you an opportunity to view historic aircraft, air and space artifacts, photographs, fine art and an extensive model collection. They offer a free self-guided walking tour. On Aug 20 – 21 they have an open cockpit weekend so you can see and sit in many of the aircraft from helicopters to airplanes they have onsite.
The Milliner's Tale exhibit at the Museum of Early Trade and Crafts is a unique look at 18th – 20th century milliners. It examines the inner workings of the hats and illustrates the techniques used to make them. On permanent display they have exhibits featuring the activities of New Jersey farming families, Blacksmithing in America, and the working life of four 1850's local tradesman a distiller, cooper, shoemaker, and cabinetmaker.
The New Jersey Museum of Boating celebrates our state's rich maritime history. They show an inside look at the boats built in New Jersey and the related marine equipment and materials traditionally used in the process. Now on display are 11 miniature historic lighthouses of New Jersey where you can learn their history and architectural characteristics. As part of their mission, they are working to educate today's youth on the history of boating in New Jersey. Several programs are available to children including basic boating safety, sailing for kids, and family boat building. Admission is free.
Holmdel is the site of the New Jersey Vietnam Veterans' Memorial, Vietnam Era Museum and Educational Center. The Memorial honors the sacrifices made by New Jersey residents who gave their lives while serving in Southeast Asia and, at the same time, pays tribute to all who have served. The Educational Center is the only one of its kind in the nation. Covering the walls of the exhibit area is a chronology of the war that presents a historical recollection of the events of the era, shown in two concurrent timelines -- one reflecting the activity in Vietnam and the other reflecting events in the United States.
Back To Top
---
Posted by:
Sarah Graves
|
June 26, 2016
Subcategories:
Summer Fun Things To Do
|
Day Trips
|
Museum Trips