Splashing into Summer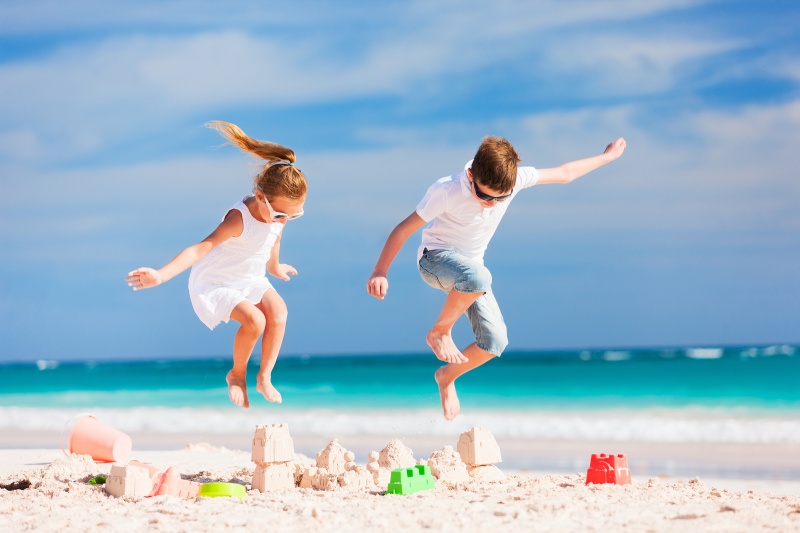 Temperatures are rising and school will soon be out for the summer – and what better way to celebrate those carefree, homework-free days than heading out for some water fun! Sun away the day relaxing on one of New Jersey's endless shore beaches. New Jersey is famous for nearly 130 miles of coastline - so grab a bucket and shovel, a blanket and a picnic lunch, and head south on the Garden State Parkway. Here is a sampling of some family beaches, events and nearby activities by exit number. Please confirm with beach websites for scheduling changes. (NJ Kids is not responsible for any errors or changes).
Exit 117 – SANDY HOOK
Originally discovered by Sea Captain Henry Hudson in the early 1600's, Sandy Hook is a 1,665-acre barrier peninsula with 7-miles of sandy beaches bordering both the bay and the ocean. Enjoy swimming, sunning, surf fishing and even biking in the Jersey Shore. There is a really nice bike trail that runs the length of Sandy Hook (good for beginning bikers too). Nearby attractions: Gateway National Park, Fort Hancock and Fort Hancock Museum, Twin Lights, Maritime Museum.
Summer concert series Wednesday evenings at 6pm from June 18 – August 13.
EXIT 117 - KEANSBURG
Keansburg Amusement park sports 40 rides and a full scale water park.
EXIT 105 – LONG BRANCH
This 38-acre beach park is a great place to swim, sun and surf. Everything needed to enjoy a day at the beach is readily available: snack bar, sheltered eating areas, volleyball area, outdoor showers and changing areas, guarded swimming, and designated areas for surfing. Nearby is Pier Village which combines the best of both worlds – Jersey beach fun and shopping.
Thursday night concerts June 12 & 26.
Exit 100B S, 100N - OCEAN GROVE
Cute town of Ocean Grove with quaint retail stores, restaurants, ice cream parlor and the Great Auditorium with top-name performers.
July 4: 4th of July Parade.
EXIT 100B S, 100N: BRADLEY BEACH
Great family beach with oceanfront walkway made of paving stones. Walk the length and you'll soon find yourself in Avon.
Monday, Tuesday, Wednesday, Friday: Summer Concert Series. Check website for update schedule.
May 24-26: Memorial Day Festival Bradley Beach Promenade
Jul 12 - 13: 6th annual Lobster Fest on the Beach! Mondays: Concert series at the Gazebo (check schedules).
Exit 98: POINT PLEASANT
The quintessential family beach – Point Pleasant has all the beach fun plus a boardwalk, amusement park and aquarium. Kiddie Beach shows and concerts are held throughout the summer. Point Pleasant and local marinas are popular departure spots for fishing excursions.
Thursday Night throughout the summer: Fireworks at Dark
May 23: The Todd Show 2014 Summer Kick Off (WPLJ) at Jenkinson's Pavilion. 6am-10am.
Jun 7: World Oceans Day: Celebrate Sea Turtles. 1-4pm.
June 15:7pm. NJ 101.5 Big Joe Henry's Talent Show. Jenkinson's Pavilion Beach Stage every Sunday
Jun 15: Father's Day Sunday, All Dads are free with a paid child admission.
June 23: Kiddie Beach Shows. 7pm. Held at the South Beach Stage.
Jun 25: Jenkinson's Music Festival 7:30PM, Jun 25: Hermit Crab Races, 5-7PM.
Thursdays: Fireworks at Dark. Fridays: Movies on the Beach.
EXIT 98 - BELMAR:
Belmar has a beach that stretches for more than a mile as well as a new boardwalk with many interesting attractions, shops and eateries as well as fun
Jun 13-15: 28th Annual Seafood Festival.
Jul 16: Sandcastle Contest, 8am-12pm
EXIT 98 – MANASQUAN
Elks Beach in Manasquan is the only beach dedicated to the handicapped in the Jersey Shore area, providing handicapped parking and a wooden boardwalk to a platform on the beach. In addition, there are several large handicapped chairs available for use.
EXIT 82 – SEASIDE HEIGHTS
Seaside has a rough go of it between Hurricane Sandy and a really bad fire that took out most of the boardwalk last September. A new boardwalk is to be completed and Casino Pier is still alive and well with fun activities planned throughout the summer.
Jun 21: Celebrate Casino Pier's Carousel's 104th Birthday!
Jun 23-Aug 27: Wristband Days on (Mon & Wed) 12PM–6PM.
Jun 27: Casino Pier Beach Bucket & Photo Scavenger Hunt, 2PM,
Jun 21: Hot Rods and Food Trucks - 11AM -5PM. Hundreds of cars, music, prizes, vendors, and fun for the whole family. Free admission for spectators!
EXIT 63 - LONG BEACH ISLAND
18 mile LBI, which includes the communities of Beach Haven, Barnegat Light, Ship Bottom, Surf City and Long Beach Township. What do they all have in common? Quiet, family oriented beaches! After a day of sun and fun, visit the amusement park or go mini-golfing. Also nearby: Long Beach Island State Park, Barnegat
Lighthouse and Surflight Theater. Visit the Viking Village in Barnagat Light and enjoy Jersey fresh seafood, dock tours, special events and unique gifts from craftsmen and artisans.
EXIT 40 – BRIGANTINE
Relax on pristine white sandy beaches or get active and try your hand at sport fishing and windsurfing. Kids love Shark Park Playground. Enjoy the Marine Mammal Stranding Center, Brigantine Lighthouse & Brigantine Beach Historical Museum.
EXIT 30: – OCEAN CITY
Located at the tip of Cape May County, Ocean City is a family-friendly beach town, complete with Gillian's Wonderland Pier Amusement Park, an arcade, boardwalk, and mini-golf. June 5: Wonder's Birthday Bash at Gillian's Wonderland Pier, celebrating 83 years on the Ocean City Boardwalk.
June 23-27: July Jubilee –A fun filled week of contests leading up to July 4th complete with taffy sculpting, treasure hunts and more.
Jun 20: Int'l Beach Surfing Day. Jun 25: FUNday at Playland benefit – 1-5pm.
Fourth of July Celebration – Kite flying competition, 7pm. Funtastic Tuesdays 10am –1pm with entertainment, face painters, balloon sculptors.
EXIT 10A - STONE HARBOR
Flanked by the Atlantic Ocean on the East and the Intercoastal Waterway on the west, Stone Harbor is known as Seven Mile Island and has endless beautiful, family beaches. If you prefer nonbeach activity, visit Wetlands Institute, a nature center, featuring exhibits on marine live and family programs throughout the summer (free with admission fee), as well as kayak trips and boat cruises (reservations required).
May 26: Memorial Day Parade and Ceremony
June 30: Family Night at the Firehouse
July 1: Stone Harbor Centennial Music Series Celebration with Linda Gentile and the Jersey Shore Pops
July 4: Independence Day Festivities, sand sculpture contest (beach), Hoy's candy scramble, foot races, slow bike races. Evening: live music and food. 9:30PM fireworks display.
EXIT – WILDWOOD
Voted one of the top New Jersey beaches, Wildwood has it all – powder white beaches, an abundance of sport opportunities, 3 amusement parks, 3 beachfront water parks and more. Best of all – no badge fee! Other activities include historical tours, zoo, dolphin tours, horticultural gardens and more. Friday night fireworks on the beach.
June 15: Annual Curley Fry Eating Contest; Import Car and Truck show; Morey's Pier Father's Day Celebration (dads slide for free).
May 23-26: Wildwoods International Kite Festival.
Jun 21-22: Lighthouse Maritime Festival.
Jun 28-29: Beach Blast Soccer
EXIT 0 – CAPE MAY
Located at the southern tip of Cape May Peninsula where the Delaware Bay meets the Atlantic Ocean, Cape May is designated a National Historic Landmark because of its concentration of Victorian Building. Attractions: beautiful powdery beaches, Cape May County Park & Zoo, Nature Center, Naval Air Station Wildwood Aviation Museum.
May 26: North Wildwood Memorial Day Ceremony.
Back To Top