iPlay America's Spooky Spooktacular Halloween is All About Spooky Family Fun!
Posted by: NJ Kids Contributors - September 29, 2016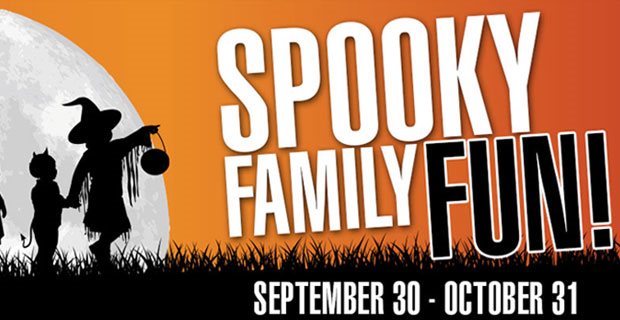 Trick-or-Treat aficionados, costumed revelers, and dancers in the moonlight, if you're looking to have the BEST Halloween experience possible… if YOU are truly looking to get the maximum amount of FUN and satisfaction out of your Halloween entertainment dollars, there is nothing out there ANYWHERE that can compete with the family friendly thrills and excitement to be found at iPlay America's SPOOKY SPOOKTACULAR HALLOWEEN going on September 30 through Halloween! The atmosphere, the attention to detail, the level of engagement and opportunities for every member of your family to do something fun, fresh, and memorable, are all waiting right now at iPlay America.
If you're a dedicated regular visitor to iPlay America and it's one of your favorite haunts, you know what it's about, and how it looks, and feels, and that's what's most AMAZING about the SPOOKY SPOOKTACULAR HALLOWEEN event. It's the TOTAL transformation of the building into a playful, fun, thrills and chills extravaganza. It's so well done and thought out, it is designed to impress! This isn't your run-of-the-mill, blood and guts Haunted House experience. This is a colorful, tasteful, totally enjoyable take on Halloween that truly is visually stunning and SPOOKTACULAR!
The rides and attractions have been re-imagined and decorated to dazzle! It's terrific. The Happy Swing is now the HALLOWSWING, the Cosmic Battle Laser Tag has been eerily transformed into the ZOMBIE BATTLE, and the iPA Speedway is now the HAUNTED HIGHWAY! All of your favorites have been given a MONSTER overhaul that's guaranteed to make your visit a memorable one and one where you will most definitely want your camera close by!
There is so much to do and experience during iPlay America's SPOOKY SPOOKTACULAR HALLOWEEN that you could quite literally find a reason to be here every single day in October! If you consider all the games, the food, the rides, the shows, the special themed events and offers! There is a reason dedicated patrons and friends are more than happy to travel distances of over an hour to experience iPlay America. Simply put, if there is a day in the month of October with the word "day" in it, then it's a GREAT DAY to be at iPlay America! There is no better place to party this Halloween ANYWHERE!
Friday nights are frighteningly FUN during the Spooky Spooktacular. Get in on all the MONSTER excitement every Friday night in October at Full Moon After Dark starting at 7 PM, complete with LIVE DJ and spooktacular prizes. Be sure to mark your calendars for Fridays September 30, October 7, 14, 21, and 28 so you won't miss a minute of the FUN.
Every Sunday from noon until 4 PM, iPlay America offers guests the opportunity to Trick-or-Treat around the park. There are six stations of Trick-or-Treat fun certain to thrill all your little creatures. Grab a map and have it stamped at every stop. The Trick-or-Treat bags are available for a small fee in the Welcome Center.
NEW this year for iPlay America's Spooky Spooktacular 2016:
iPlay America's Spooky Spooktacular Halloween is ready to WOW and AMAZE guests this year, with FUN and EXCITING FREE Magic Shows for the whole family every Saturday and Sunday in October at 1:30 PM, 2:30 PM, 3:30 PM, and 4:30 PM. Prepare to witness feats of pure wizardry performed right before your very eyes! Abracadabra, it's going reach out and grab YOU! It's Spooky Family FUN for everyone!
Make certain to carve out some extra time for pumpkin decorating this year. With the purchase of any regular priced ride pass or game card of $25 or more, guests will receive a voucher for a FREE pumpkin to decorate every Saturday and Sunday from 11 AM to 5 PM in the iPlay America Pumpkin Decorating Tent. There will also be other terrifyingly FUN, family friendly activities in the tent including photo opportunities and more!
Families are welcome to visit the park any day of the week to participate in Halloween fun!
Back To Top
---
Posted by:
NJ Kids Contributors
|
September 29, 2016