Queen of Children's Music, Laurie Berkner, performing at QuickChek New Jersey Festival of Ballooning
Posted by: NJ Kids Contributors - June 21, 2017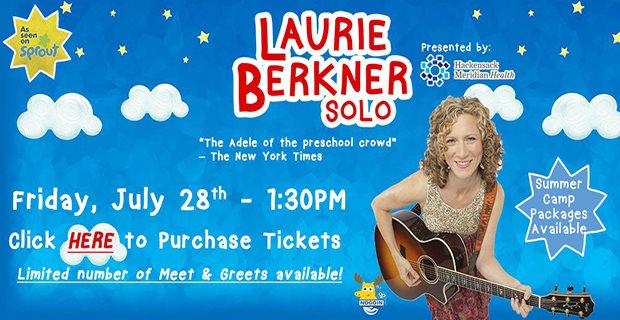 Recognized as the "queen of children's music" by People magazine, best-selling children's recording artist and preschool television favorite Laurie Berkner will headline the first ever concert for children at this summer's 35th annual QuickChek New Jersey Festival of Ballooning in Association with PNC Bank.
The singer-songwriter, who grew up in Princeton, NJ and has released 11 best-selling albums, will perform on the Festival's Opening Day, Friday, July 28 at 1:30 p.m presented by Hackensack Meridian Health.
Laurie Berkner was the first recording artist to perform in music videos on Nick Jr. and appeared regularly on the network's Jack's Big Music Show, the second-highest rated original program on Noggin, a commercial-free cable station. Her music has graced the short-form animated series Sing It, Laurie! on the 24-hour preschool television channel Sprout and she has been a frequent guest on Sprout's Sunny Side Up morning show.
She has written music and lyrics for two Off-Broadway children's musicals produced by New York City's Children's Theater: Wanda's Monster (2013) and The Amazing Adventures of Harvey and the Princess (2014). She is currently writing songs for her third NYCCT musical, Interstellar Cinderella, which will debut off-Broadway in November 2017.
Berkner has also authored four books based on her songs including two Barnes & Noble NOOK Kids e-books. Simon & Schuster Books for Young Readers will soon publish three picture books with Laurie. We Are the Dinosaurs will release in Spring 2017. Pillowland is due out in Fall 2017 and Monster Boogie is scheduled for Summer 2018.
Children ages 2 and older will need their own ticket/seat if they will be sitting in the reserved seating area. Children 1 and under may sit on a parent/guardian's lap without their own ticket. Adult and child tickets are the same price.
A limited number of Super Premium tickets including a Meet & Greet with Laurie Berkner are available. Purchasing a Super Premium seat is the only way to secure a M&G.
Visit www.balloonfestival.com, or call 1-800-HOTAIR9 to get more information and to buy tickets!

Back To Top
---
Posted by:
NJ Kids Contributors
|
June 21, 2017