Spotlight on The Sundance School - Child-Centered Learning.
Posted by: NJ Kids Contributors - April 03, 2017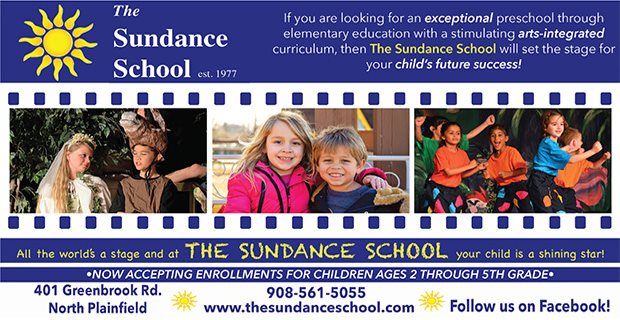 The Sundance School is celebrating 40 years of helping children shine! Located in North Plainfield, Sundance has been providing exceptional preschool through elementary education for students from Westfield, Cranford, Scotch Plains/Fanwood, Watchung, Warren, Summit, Chatham, Maplewood/ South Orange, Short Hills/Millburn and North Edison since 1977.
Sundance is an independent, non-sectarian day school for children ages 2 through 5th grade. Sundance is a rare gem of academic excellence AND whole child-centered learning. The faculty's experience, longevity, and steadfast commitment to the mission are integral components of the Sundance Experience. The mission of Sundance has always been to ignite within the hearts and minds of their students a passion to make the world a better place while inspiring them to become successful and lifelong learners. The school boasts a student teacher ratio of 7:1, individualized instruction, curricular rigor, and a stimulating arts-integrated experience for EVERY student.
STEAM education at Sundance expands students' academic endeavors and bodies of knowledge by assuring the arts and sciences are an integral part of the educational process. The Lower School program offers students daily classes in creative movement, art, gym and music. Subject/Field Experts teach classes in Science, Math, Language Arts Readiness and Spanish as well as Violin, Mandarin, Visual Arts and Dramatic Instruction, when the students advance to our Primary and Upper Schools.
After graduation, students transition successfully into the top independent area schools with competitive test scores and achievements. The Sundance Summer Spectacular Camps allow students to continue their Sundance Experience from June through August. Please call to arrange a tour, attend a musical theatre production, visit the annual Westward Ho! Happening, and experience for yourself the many imaginative ways learning comes
The Sundance School
401 Greenbrook Road, North Plainfield, NJ 07063
Phone: 908-561-5055 / sundanceschool.org
Back To Top
---
Posted by:
NJ Kids Contributors
|
April 03, 2017