Water, Water Everywhere, Learn to Swim
Posted by: NJ Kids Staff - February 20, 2019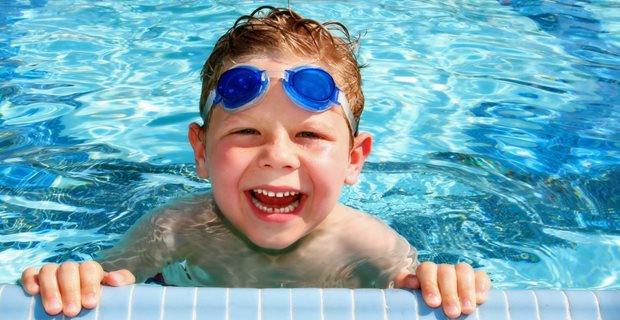 You're never too young or old to learn how to swim. Some children take to water like fish, while others may need an extended period of time to get acclimated to the pool. Swimming is a survival skill that everyone should have and swimming safely is key. Unfortunately, not all kids will get this opportunity. Attention Parents: start thinking about enrolling your child in swimming lessons and Spring is a good time to do so. Summer is around the corner and how do kids like to cool off, that's right, in water.
You want your child to be comfortable and confident around a pool setting, lake, beach, or basically anywhere where there's a body of water. It may take quite a few swim lessons for your child to get the hang of it, but it's okay. Everyone learns at his/her own pace.
You can inquire about swim lessons or swim classes at your local YMCA or look into some private swim schools. If you can, take a tour to see if the swim facility meets your requirements. Check out the size, depth & temperature of the pool, meet instructors, inquire about class size, ask about private lessons, ask how they handle the fear of water, how long are the sessions, or any other questions you may have. Let's get water ready!
British Swim School
39 West Northfield Rd, Livingston, NJ, 201.691.7817
461 U.S. Highway 46, Fairfield, NJ, 201.691.7817
Learn how to swim this spring at the British Swim School of the Oranges. Water safety-first swim lessons. Ongoing enrollment, welcoming children of all ages and families at any time. Small swim classes, child-friendly instructors, and warm water.
Goldfish Swim School
91 Ruckman Road, Closter, NJ, 201-571-1573
3130 Rt. 10 West, #15, Denville, NJ, 973.358.8512
277 Eisenhower Parkway, Livingston, NJ, 973.755.9476
327 Franklin Ave, Wyckoff, NJ, 201.890.4942
In general: Goldfish Swim School offers swimming lessons for ages 4 months to 12 years old. Family Swim is also available. It's swimming time open to the public for a fee. Parents can help their children practice their swimming skills and enjoy some family time in a 90-degree pool. Check for times of availability and registration requirements.
Kristie's School Of Fish
182 Route 10 West, East Hanover, NJ, 973.887.7011
Hop in the water and get ready to get wet at Kristie's School of Fish. Students may join at any time. Serving ages 6 months to 9 years old, from Silly Fish swim classes all the way up to Seal 6.
Safesplash Swim School Cedar Grove
95 Pompton Ave, Cedar Grove, NJ, 973.320.7070
New Safesplash Swim School just opened. Come check us out. Learn to swim lessons for babies, toddlers, and kids - beginner, intermediate, and advance. Month to month basis with rolling start date. Progressive based program, swimmers based on ability.
Back To Top
---
Posted by:
NJ Kids Staff
|
February 20, 2019
Subcategories:
Spring Fun Things To Do
|
Winter Fun Things To Do