1 Gold Mine Road Flanders (Roxbury), NJ 07836 (Morris County)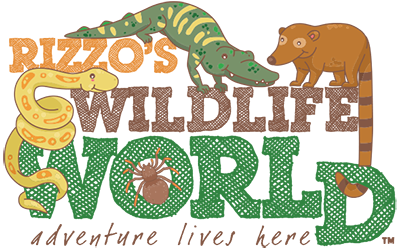 ---
WELCOME TO RIZZO'S WILDLIFE WORLD!
This unique nature center is the culmination of our dream to spread the message of conservation for native New Jersey threatened species and preservation of their natural habitats...all while providing families the opportunity to spend quality time together learning about animals and our environment. Since 2003, Rizzo's Reptiles has been honored to be invited into your home, school, or workplace, and to your special celebrations. We treasure the relationships we have formed with our customers and enjoy being a part of important moments in your lives. It is especially gratifying when we can not only delight our audience during one of our shows, but also encourage an interest, appreciation, and love for wildlife.

Out of the success of Rizzo's Reptiles, Rizzo's Wildlife World was born. Bringing this nature center to life has been the result of a group effort involving family, friends, educators, and supporters. Rizzo's Wildlife World houses New Jersey native North American wood turtles and northern pine snakes along with other amazing reptiles, amphibians, and mammals in naturalistic habitats. We strive to create an environment brimming with enrichment and full of sights, sounds, and tactile learning.

There are many ways to enjoy Rizzo's Wildlife World. Book a birthday party, a special event, or your school or camp outing. Bring your scouts to fulfill a requirement or attend one of the general admission times and enjoy the animals at your pace. Come back again and again - there is always something new at Rizzo's Wildlife World!

Are you an animal lover like us? Consider getting involved with us as a volunteer guide and get the chance to spend time with these amazing creatures up close. We provide shelter for more than 150 animals - that's a lot of housing, food, care, and daily attention. We do it, because like many of you, we are passionate about wildlife and preserving them for future generations. Interested in sponsoring an animal and its habitat? We have corporate and individual sponsorships available...contact us to hear more.

No matter how you want to experience Rizzo's Wildlife World, we promise you it will always be WILD. And remember, if you can't make it to us, Rizzo's Reptiles is still available to come to you!