Lighthouses have stood the test of time to light the way home for those at sea and are also a great teaching tool about the history of NJ.
Lighthouses have always been a source of fascination for me. This summer why not take your family on a lighthouse challenge and see how many of these majestic beacons you can visit. Many of the lighthouses below have activities for kids throughout the summer. The kids will love the thrill of climbing the steps all the way to the top. The climb is worth the effort when you squeeze through that doorway at the top only to arrive on the platform to see the expanse of the beautiful beach below.
Here are the lighthouses in NJ that are open to the public and very reasonable priced for you to enjoy. Please check on fees and schedules. Many have family special events.
Absecon Lighthouse (see image above)
31 S. Rhode Island Ave. - Atlantic City, 609-449-1360
Absecon Lighthouse was built in 1857. For over 150 years, it has the distinction of being the tallest in NJ and third tallest in the US. They have recently done a multi-million dollar renovation to create a Lightkeeper's dwelling, an educational museum, charming gift shop, a Fresnel Lens exhibit in the original Oil House and expansive grounds. With over 228 steps to the top, you'll see beautiful views of the Atlantic City skyline. Open daily in July and August for climbing, 10am to 5pm, Thursdays until 8pm. Last climb 1/2 hour before closing. Free Parking and Admission to the Keeper's House Museum, Exhibits and Grounds! If you choose to climb adults are $7; $4 for children ages 4-12; kids under 4 free.

Barnegat Lighthouse
Broadway (Off Long Beach Blvd.) Barnegat Light, 609-494-2016
Barnegat Lighthouse was built two year after Absecon so it has also survived the years of weather and wear. Renovations were done by the Friends of Barnegat Lighthouse in 2009 to get it shining again. After your 217 step climb to the top, you will get a panoramic view of Island Beach, Barnegat Bay, and Long Beach Island. Or if you aren't up for the climb, there is an Interpretive Center nearby with four cameras that transmit live images of the view. The lighthouse is open daily from 10 AM to 4:30 PM (weather permitting) through Labor Day. There is a $3 fee per person to enter the lighthouse from Memorial Day through Labor Day. Children ages 6 to 11 are $1 and children ages 5 and under are free and must be accompanied by an adult.
There is also a newly renovated Interpretive Center at Barnegat Lighthouse State Park which has an exhibit called the "Story of Barnegat Lighthouse." You can learn about the changing nature of the coastline and the natural environment that surrounds the lighthouse, including Barnegat Bay, the Atlantic Ocean and the maritime forest. There is also a gallery of historic photos to show what life was like at a lighthouse long ago.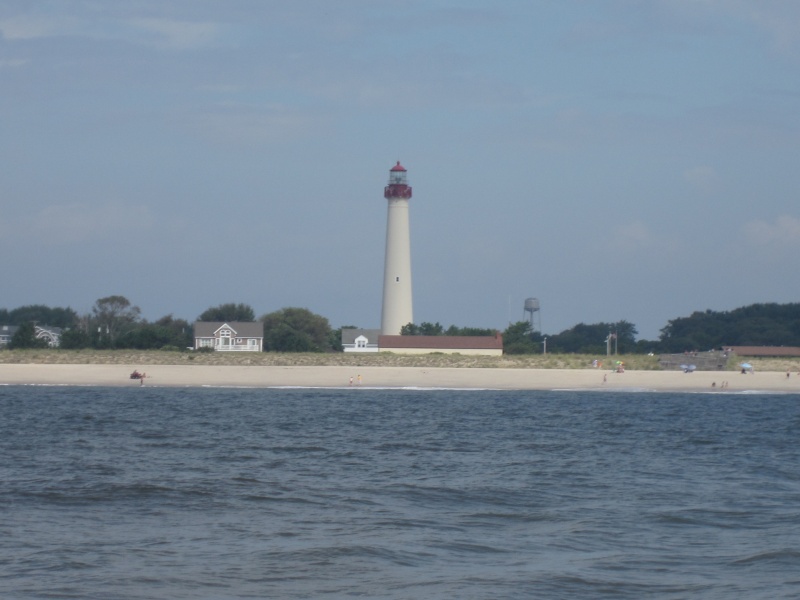 Cape May Lighthouse
Lighthouse Ave. (Rt. 626) at Yale Ave. Cape May Point, 609-884-5404
Coming in at 199 steps to the top, the Cape May Lighthouse is 157 feet tall and is still in use today. The view from the top shows a panoramic view of the scenic Cape May peninsula. It is located at Cape May Point which is also known migratory route for all sorts of shore birds, song birds, dragonflies, monarch butterflies, and even horseshoe crabs. Admission to the lighthouse is $7 for adults, $3 for children ages 3 to 12 and children under 3 free. Enjoy kid-friendly activities, performers, entertainment and unique crafts vendors at the base of the lighthouse. Plenty of free parking.
East Point Lighthouse
Lighthouse Rd. off East Point Rd. Heislerville, 856-546-7810
Built in 1849, East Point Lighthouse is the second oldest lighthouse in New Jersey. It is located on the east bank of the mouth of the Maurice River. It is in being restored and maintained by the Maurice River Historical Society. After many years of neglect, they have made great strides in restoring and repairing this historic landmark. The lighthouse is open to the public on the 3rd Sunday of the month from April to October from 1:00 p.m. to 4:00 p.m.
Finns Point Rear Range Light
197 Lighthouse Rd. Pennsville, 856-935-1487
Finns Point Rear Range Light has a unique history. Originally constructed in Buffalo, New York and then moved here by train and mule-wagon, this unusual wrought-iron, open-frame, lighthouse was built at a cost of $1,200 in 1876. It stands at 115 feet tall. The lighthouse is usually open the third Sunday of each month from April to October from 12:00 to 4:00 p.m.
The Hereford Inlet Light
111 N Central Ave, Wildwood, (609) 522-4520
Hereford Inlet Lighthouse is not only a working lighthouse but an interesting museum as well. There are options for the guided and self-guided tours to learn about the history of the lighthouse. You will get an idea of what the life of a lighthouse keeper in the late 19th and early 20th century was like. Surrounding the lighthouse is an award winning park with over 200 different varieties of plants. The Lighthouse also has a cute gift shop featuring lighthouse and nautical themed items. Open year round 7 days per week.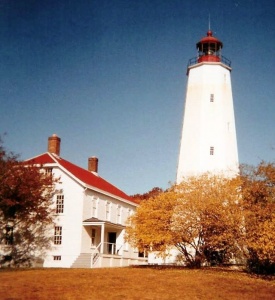 Sandy Hook Lighthouse
Located within Gateway National Recreation Area Park, Entrance off Rt. 36, Highlands, 732-872-5970
Standing at over 103 feet tall, it is one of only eleven lighthouses built in the thirteen colonies during the colonial era, but, as the years went by, the Sandy Hook Lighthouse literally stood "the test of time" to outlast all of its contemporaries to become the oldest standing and oldest operating lighthouse in the United States. Tours are offered first come, first served, from 1 PM to 4:30 PM. It is free with admission to Sandy Hook. Children must be at least 48 inches tall to climb the tower. The Lighthouse Keepers Quarters/ Visitor Center is open 1PM to 5 PM daily with Rangers are available to answer questions, discuss the natural and cultural resources of the park. Interpretive exhibits and a gift shop are also available.
The celebration event will include the Fife & Drum Corps band from Trenton Barracks to provide Colonial Era martial music, a short dramatization that tells the story of how and why the lighthouse was built in Colonial times, a Colonial Era children's games area where modern children can play the games that were popular with children of that era, and a commercial food & drink area to provide refreshments for sale during the day. Parking and attending the event is free, and will take place rain or shine.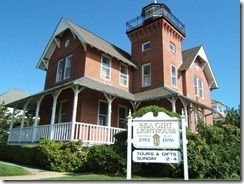 Sea Girt Lighthouse
200 Beacon Blvd. at Ocean Ave. Sea Girt, 732-974-0514
Sea Girt Lighthouse is unique in style and is the last live-in lighthouse built on the Atlantic Coast. Guided tours of the lighthouse are conducted Sundays 2-4 p.m. through November 23, except holiday weekends. There is a lot to explore throughout the building – the keeper's office through the living quarters and up to the top of the tower. You can also see information on the history of the lighthouse and the keepers and later Coast Guardsmen who operated the landmark. There is also a section on the roles of women and children in lighthouse keeping. Historic Sea Girt is shown in photos. Tours are free; donations appreciated. Note: There will be no tours on May 11 (Mother's Day), May 25 (Memorial Day weekend), June 15 (Father's Day), July 6 (Independence Day weekend), August 31 (Labor Day weekend) and October 12 (Columbus Day weekend).
Tinicum Rear Range Lighthouse
2nd St. & Mantua Ave. Paulsboro, 856-423-2545
The Tinicum Rear Range Lighthouse stands 85 feet tall with 112 steps and began operation in 1880. The lighthouse has a steel skeletal structure that is still active today. Renovations are underway to improve the building. The lighthouse is scheduled to be open on the third Sunday of the month from April to October. Sunday openings are from Noon to 4 PM.
Tucker's Island Lighthouse
120 W. Main St. Tuckerton, 609-296-8868
Located within the Tuckerton Seaport, the Tucker's Island Lighthouse features exhibits on privateers and pirates of the Jersey Coast. Tuckerton Seaport is a 40-acre site includes 17 historic and recreated buildings connected by a boardwalk, a maritime forest and wetlands nature trail, two houseboats, a decoy gallery, a working boatworks building, and a historic marine railway (currently under reconstruction). Bring the family to check out their daily demonstrators and traditional artists who bring the Jersey Shore's rich maritime heritage to life. Open daily from 10 AM – 5 PM. $8 Adults, Children 6-12 $5, Children 0-5 are free
Twin Lights of Navesink
2 Lighthouse Rd. Highlands, 732-872-1814
In 2012, the Twin Lights celebrated their 150th anniversary. At the moment they have parts of it closed because they are in the process of developing and installing a new and modern state of the art museum exhibit. This should definitely be on your list when they finish. The Twin Lights overlook the Highlands and Sandy Hook. In the summer, they are open 7 days per week, 10:00 AM - 4:30 PM but call before you go to confirm the tower is open to climb.
Back To Top