Northern & Central NJ Ice Skating Rinks
Let's go have some icy fun in NJ. Ice Skating is cool entertainment for kids and adults of all ages. Lace up those ice skates and glide (or stumble) around the rink! Rent or bring your own blades. Whether you want to ice skate indoors or outdoors, these venues all have public ice skating sessions. Please remember to wear a helmet to protect little heads.
Ice Skating Rinks: Northern NJ | Southern NJ | NYC
Ice Vault Arena
10 Nevins Rd, Wayne NJ, 973-628-1500
Ice fun for the whole family at the Ice Vault. Indoor Public Skating, Figure Skating, Open Hockey, Youth Hockey Skills, and much more.
Union Sports Arena
2441 Route 22 , Union NJ, 908-687-8610
Glide around at Union Sports Arena. Offering indoor public skate 7 days a week, plus lessons, Learn to Skate programs, Youth Hockey, Family Hockey and more.
Woodbridge Community Center
600 Main Street, Woodbridge NJ, 732-596-4000
The place to be this winter is the Woodbridge Community Center. Open Indoor Public Ice Skating Friday, Saturday & Sunday. Come Friday Nights for Cosmic Skate – the lights are turned down, the music is turned up, and the fun is non-stop! Learn to Skate Clinics, Learn to Play Hockey Programs and more!
Aspen Ice
16 Aspen Drive, Randolph NJ, 973-927-9122
Indoor Public Ice Skating, Learn to Skate Programs, Figure Skating, Parties and Camps.
Codey Arena
560 Northfield Ave, West Orange NJ, 973-731-3828
Along with indoor ice skating, you will find all sorts of skating and non-skating activities in the vicinity including a zoo, zipline, trains and mini-golf. See schedule for open skate sessions.
Bridgewater Sports Arena
1425 Frontier Road, Bridgewater NJ, 732-627-0006
Indoor public ice skating, figure skating lessons, Learn to Skate, Freestyle Skating.
Fritz Dietl Ice Rink
639 Broadway, Westwood NJ, 201-666-9883
Neighborhood indoor ice skating rink in Bergen County. Public ice skating sessions daily.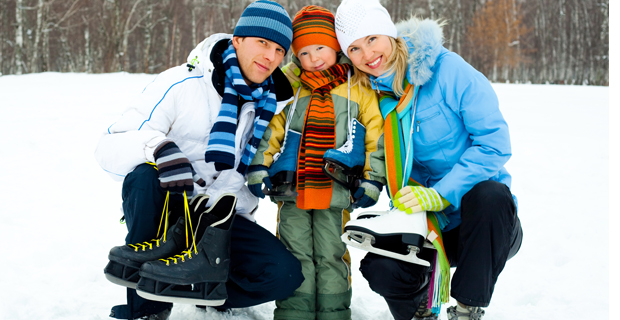 Howell Ice Arena
269 Squankum Rd, Farmingdale NJ, 732-919-7800
Indoor ice complex. Learn to Skate program, Public Skate for all ages, Open Hockey, Figure Skating and more.
Ice House
111 Midtown Bridge Approach, Hackensack, 201-487-8444
4 indoor ice rinks. Public Skating Saturday and Sundays. Friday Nights Skate Jam with live DJ and Laser Lights.
Mennen Sports Arena
161 East Hanover Ave, Morris Township NJ, 973-326-7651
Three indoor year round ice skating rinks. Top Learn to Skate Programs, Public skate times, Lessons for all levels. Friday Night Skates with Music is a popular activity.
Newport Skates
95 River Drive South, Jersey City NJ, 201-626-7465
Bundle up for some seasonal outdoor public ice skating in the heart of downtown Jersey City.
ProtecHockey Ponds Ice Center
15 World's Fair Drive, Somerset NJ, 732-868-9181
Open sessions for skaters to hop on the ice and skate with friends and family. Indoor ice rink. Learn to skate, figure skating, hockey lessons, Clinics, Skating Camps.
Skylands Ice World
2765 State Hwy 23, Stockholm NJ, 973-697-1600
Two indoor NHL Size rinks. Friday night Ice Jam, public skating, figuring skating, hockey programs, synchronized skating and more!
Back To Top