Hudsonway Immersion School Announces The Expansion Of Its Unique Educational Environment
Posted by: NJ Kids Contributors - January 03, 2018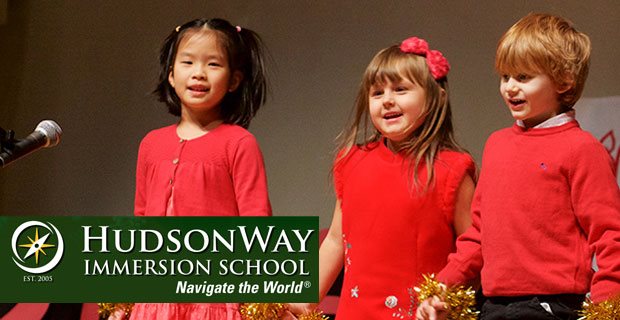 HudsonWay Immersion School announces the expansion of its unique educational environment for students ages 2.5 through Grade 5 to develop skills needed in the 21st century …critical thinking, global understanding, bilingual and biliteracy in Mandarin Chinese or Spanish.
HudsonWay Immersion School will be relocating from their current headquarters in Summit, NJ to
in August 2018. Students, faculty and staff will be moving into the vacant St. Vincent de Paul Catholic School, which closed in June 2016. HWIS first began over 12 years ago as Bilingual Buds and has grown steadily as more parents see the impact that immersion education has on developing biliteracy and enhanced cognitive development of their children.
The preschool program is conducted mostly in the second language of either Mandarin Chinese or Spanish, two highly recognized languages for global competency. Children learn how to explore new ideas, take risks, use context clues, work independently, cooperate with classmates, follow instructions, and maintain self-control –all in the second language which improves executive function, enhances cognitive development, and provides the foundation for bilingualism.
In the elementary program, students build on the foundation of preschool to deepen academic learning of content areas in language arts, math, science and social studies with the majority of the day spent learning in the second language. This focus ensures that language use become an integral part of the young student's skill development. Students are able to understand, speak, read and write in the second language enabling them to actively engage in project based learning, collaboration, research, writing and critical thinking skills.
This move provides more amenities and space for growth. School administration is looking to expand and incorporate a new "LEIP" program (Late Entry Immersion Program) in conjunction with the move. The program enables academically capable Kindergarten through Grade 2 students without prior foundation in Mandarin or Spanish to be supported in a separate track.
HudsonWay Immersion School also offers after school programs for students ages 5-12, and summer camps for ages 2.5-12, conducted entirely in Mandarin Chinese or Spanish with supportive, native speaking teachers.
For more information about the school and admissions, please visit www.hwis.org.
HudsonWay Immersion School
908-598-8088 / www.hwis.org
Back To Top
---
Posted by:
NJ Kids Contributors
|
January 03, 2018
Subcategories:
Feature Kids Activities and Classes
|
Schools
|
Feature Summer Camps